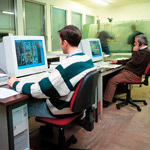 Starting from the feasibility analysis, in collaboration with the customer, for the realization of models and mergers, up to the management and in the final tests the most advanced technologies.
To ensure compliance with the specifications and supplies within the prescribed terms.
After the design analysis, we move on to the construction phase at partners equipped with the most advanced technologies and in our Models department and core boxes in: Polystyrene, Wood, Resin, Aluminum. p >
The equipment is cataloged and kept in our modeling department.
The Sand – resin molding line for the production of shapes with medium and large sizes in single and medium series, is completed by an unmolder of the plates that guarantees the precision of the shape created without damaging the models themselves.
The painted and assembled brackets are placed in the oven, before casting, to eliminate the presence of humidity and defects in the sand-resin, ensuring higher quality of blends .
The plate demoulder is very precise!
The automatic line of forming" A GREEN " with bracket mm. 1000 x 1000 and relative inserts, in addition to flexibility, allows a precise production of shapes in small – medium and large series.
It is enslaved by a completely computerized and line earth system mechanized for casting.
– 1000 x 1000 brackets
– Very flexible
– Mechanized line for casting
– Computerized control o of the earth (Green-Sand)
– Moulder with pestle head
– 1 CNC bar pusher lathe
– 1 CNC vertical lathe
– Traditional machines for drilling, milling and turning
– CAM for programming < / li>
– Milling center for parts up to 4500 mm.
– Milling center with 6 pullets, 60 tools
The Gruppo Fusorio has 2 rotary kilns , one for 10 tons and one for 3 tons, and a oven receiver of 13 tons for a production capacity of gray and ductile iron of 5 tons / h.

SFR system for spheroidal cast iron with Numerical Control wire inoculation.
Wood – resin – metallic core boxes are used for the Core production in:
– Betaset
– Isoset
– Shell Moldin
– Sand / Resin
In the deburring and sandblasting phase, according to the specifications agreed with the Customer, we carry out the necessary checks and tests, to guarantee the conformity of the pieces to the required standards.
The castings can be: heat treated, mechanically worked and painted internally or through external partners connected as needed.
Quality control takes place thanks to:
Metallographic analyzes;
Spectrometer;
Microscope;
high precision;